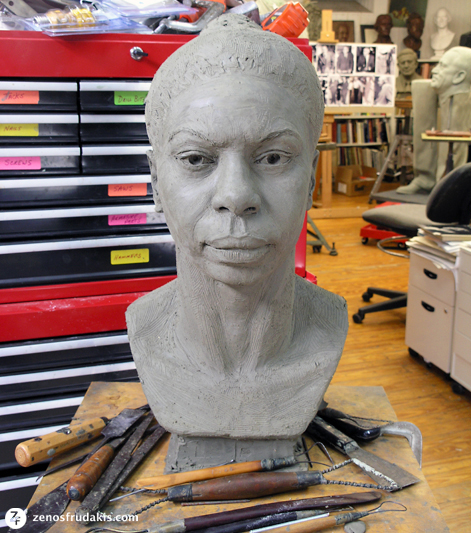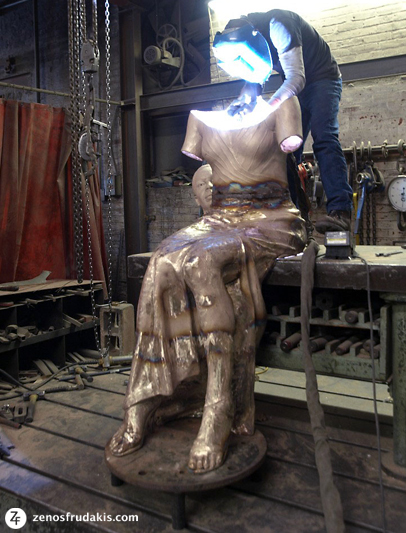 Nina Simone
Larger-than-life-size statue and life size portrait bronze of Nina Simone (February 21, 1933 - April 21, 2003) sculpted by artist Zenos Frudakis. Simone, an American singer, songwriter, pianist and arranger is also known for her civil rights activities. Her musical styles include classical, jazz, blues, folk, R&B, gospel and pop. Simone is recipient of a Grammy Hall of Fame Award in 2000 for her interpretation of "I Love You, Porgy," and she has received fifteen additional Grammy Award nominations. The University of Massachusetts Amherst and Malcom X College awarded her honorary degrees in music and humanities, and two days before her death, Simone was awarded an honorary degree by the Curtis Institute, the music school that refused to admit her at the beginning of her career.
At the age of twelve, in her home town of Tyrone, Simone performed her first concert, a classical recital. Her parent's sat in front row seats to hear their daughter's performance but were forced to move to the back, giving up their places for white people. She refused to continue the recital until her parents were given back their seats. Simone said that this experience influenced her later involvement with the civil rights movement.
Zenos Frudakis was commissioned to create a sculpture in Simone's honor for the park in her namesake, in Tyrone, North Carolina. Simone's daughter Lisa Simone Kelly, singer and Broadway actress, posed for Zenos as he sculpted. Within the larger-than-life sculpture, Zenos welded a bronze heart that is filled with Simone's ashes. Although Simone had been away from her birthplace for many years, with the installation of her sculpture containing the ash filled heart, it completed a cycle. Nina Simone returned home.
Size: Over-life size portrait bust
Media: Bronze
Location: Nina Simone Plaza, Tryone, North Carolina